Posts for: August, 2013
By St. Johns Dental
August 29, 2013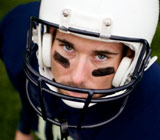 Are you ready to suit up for sports? Mouthguards have been called the most important part of an athlete's uniform. Designed to absorb and distribute the forces of impact received while you participate in athletic activities, your mouthguard is a protective appliance that covers and cushions your teeth and gums to prevent and reduce injury to your teeth, jaws, lips and gums. A properly fitted protective mouthguard is comfortable, resilient, tear resistant, odorless, tasteless, not bulky, fits well, and has sufficient thickness where needed. If you wear it when engaging in contact sports it can prevent injury, pain, suffering and years of expensive dental treatment.
Here's why athletes need mouthguards:
Sports related dental injuries account for more than 600,000 emergency room visits each year. Mouthguards are recommended particularly for contact sports such as boxing, football, hockey and lacrosse.
An athlete is 60 times more likely to suffer harm to the teeth when not wearing a mouthguard. It is estimated that mouthguards prevent more than 200,000 injuries each year.
Properly fitted mouthguards protect the soft tissues of the lips, cheeks, gums and tongue by covering the sharp surfaces of the teeth that can cause lacerations on impact. They also reduce the potential for tooth injury, jaw damage or jaw joint fracture and displacement by cushioning against impact — absorbing and distributing the forces that can cause injury.
Custom-fitted mouthguards are made from exact and precise models of your teeth. They are effective, comfortable, easy to clean, and do not restrict breathing. The best mouthguard is custom designed to fit your mouth and made in our office after your athletic needs have been assessed. For a growing child or adolescent, a custom made mouthguard can provide space for growing teeth and jaws.
A mouthguard properly fitted in our office costs little in comparison to the cost of treatment after injury. If your teeth are knocked out and are not properly preserved or replanted you may face lifetime dental costs of as much as $10,000 to $20,000 per tooth.
The American Dental Association recommends the use of custom mouthguards in 27 sports/exercise activities. Make an appointment to consult with us to find out more about mouthguards. You can also read the Dear Doctor magazine article "Athletic Mouthguards: One of the most important parts of any uniform!"
By St. Johns Dental
August 14, 2013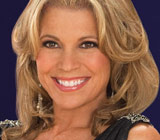 Everyone knows Vanna White as the elegant co-host of the popular game show Wheel of Fortune. But here's one thing you may not know: White is listed in the Guinness Book of World Records as television's most frequent clapper, with an average of 720 claps per show — that's over 28,000 per season! And here's something else: the star with the megawatt smile wore braces as a kid, and she's not too shy to talk about it.
"I only had to wear them for a year and it was a good experience for me," she told an interviewer for Dear Doctor magazine. But when it was time for her son to get them, White noticed something different. "We used to have those silver bands that went all the way around each tooth, and they don't have that anymore. It is fascinating to see how far they have come."
We're glad she noticed! In fact, orthodontic appliances have advanced a good deal in the past decade or so. Instead of using metal bands, brackets holding the wire part of braces are now typically attached directly to the teeth with a dental adhesive. For an even less obtrusive look, ask about using colorless brackets instead of metal ones — that way, the only part that's clearly visible is the thin wire itself. And in some situations, braces can be placed on the lingual (tongue) side of the teeth, making them all but invisible.
Another type of nearly invisible appliance is the clear orthodontic aligner. The aligner system consists of a series of precision-made transparent "trays" that fit over the teeth. Each tray is worn for a few weeks, and each moves your teeth by a small amount; together, they can help correct mild to moderate orthodontic problems. And the best part — they're really hard to notice! That makes them perfect for both adults concerned about a "professional" look, and image-conscious teens.
So if you're a TV star — or if you'd just like to have a brighter and better smile — it's never too late to get started! If you would like more information about orthodontics, please contact us for a consultation. You can learn more in the Dear Doctor magazine articles "The Magic of Orthodontics" and "Clear Orthodontic Aligners."