Posts for: September, 2013
By St. Johns Dental
September 23, 2013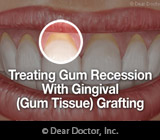 Did you know that millions of Americans have some degree of gum recession? Are you one of them?
Gum recession is the loss of the pink gum tissue that surrounds your teeth and can lead to exposure of the root surface of your teeth. In addition to the obvious aesthetic issues, recession can also result in tooth loss in very severe cases.
So, what causes gum recession? Well, first of all, if you are genetically predisposed to having thin gum tissues, your gums will be more prone to receding than those with thick tissues. However, other factors include ineffective oral hygiene, excessive brushing and mal-positioned teeth. In addition, poor fitting appliances, such as partial dentures can also cause gum recession.
If you think you are suffering from gum recession, you should make an appointment with us immediately, so that we can perform a thorough examination to accurately diagnose your condition. We'll look at your teeth and their position within the supporting bone and surrounding gum tissue. Depending upon our diagnosis, we may recommend a technique known as gum or soft tissue grafting, which allows us to regenerate lost or damaged gum tissue. Grafting is the surgical manipulation of tissue, taking it from one site and moving it to another, so that it can attach and grow.
There are two basic gum tissue grafting techniques, the free gingival graft and the connective tissue graft. Here is a description of each:
Free Gingival Grafting. With this technique, we remove a thin layer of tissue from the roof of your mouth or any other site where the tissues are identical to gum tissue (the donor). We then shape and transplant it to the recipient site to create new gum tissue. Both donor and recipient sites heal within two to three weeks.
Connective Tissue Grafting. This technique is used to cover exposed roots in the treatment of gum recession. It involves more microsurgical maneuvers to prepare both the donor and recipient sites. We take donor tissue from beneath the surface of the roof of your mouth and then cover it with the gum tissue surrounding the exposed root. Another alternative is to use processed tissue rather than your own tissue as a donor material.
When you visit us for an appointment, we will assess which procedure is best-suited to your needs.
If you would like more information about gum recession and plastic surgery, please contact us or schedule an appointment for a consultation. You can also learn more by reading the Dear Doctor magazine article "Periodontal Plastic Surgery."
By St. Johns Dental
September 13, 2013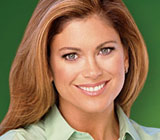 It is not often that you find a celebrity who is willing to speak candidly about any cosmetic or restorative dentistry that he or she has had. Instead, most prefer that their fans just assume that their dazzling "Hollywood" smile is something that just happened naturally. However, that is not the case with Kathy Ireland, the former Sports Illustrated cover girl, current business mogul and founder of kathy ireland Worldwide, a billion dollar marketing and design firm. In a Dear Doctor magazine cover story she talks openly about her dental experiences, injuries and treatment so that people worldwide can understand what may be possible for them.
For Kathy, it happened several years ago when she was playing with her husband and children in their driveway. Kathy decided that she would stand in her children's wagon and surf across their driveway. Instead, she ended up "face-planting," as she describes it, in a freak accident that left her with a broken nose, split forehead and several broken teeth. She recalls that it sounded like a watermelon had smashed. Luckily, her husband, an emergency room physician, was on hand to care for her. Kathy is just as thankful to her cosmetic and restorative dentist who restored her trademark smile with some veneers and a dental implant. Today, the only reminder she has from this accident is a small scar on her nose that she covers with a little makeup.
You would think that this accident would be enough trauma for one person; however, Kathy describes an earlier accident where she knocked out a tooth and then later knocked it loose again. Kathy also wanted to take the time to let readers know that her dental implant experiences were "pretty easy." She did recall, "hearing all the sounds while all of it was going on" and then added, "but I have to tell you, that after being a mom and having kids, going to the dentist...is like going to the spa!" She said that she has even fallen asleep in the dental chair.
To learn more about Kathy Ireland, continue reading the Dear Doctor magazine article "Kathy Ireland." Or if you think cosmetic or restorative dentistry is right for you, contact us today to schedule an appointment to discuss your specific goals.