Cosmetic & Family Dentist in St Johns, FL

St Johns Dental has served the St Johns, Jacksonville and St. Augustine, FL areas since 2003 .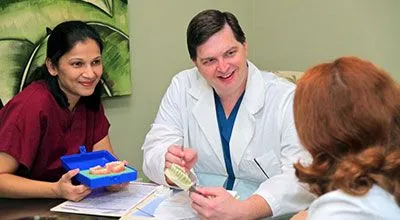 Looking for a gentle, caring dentist serving St. Johns, Jacksonville, and St Augustine? You've come to the right place. From the minute you walk into our office you will notice a difference at St. John's Dental. We care about you, your family and your friends, and we're here to help you achieve your healthiest, brightest smile.
We specialize in improving smiles. You can learn more about our smile-enhancing services on our website including:
Preventative and Cosmetic Dentistry
Implants
Crowns and Veneers
Teeth Whitening
Botox, Dysport, and Juvederm
We offer Saturday, evening, and lunch appointments for your convenience.
We will file your dental insurance and help you maximize your benefits.
We have flexible, interest-free financing plans available.
We can treat your whole family! We love working with children and will make their dental experience fun, informative, and comfortable. We have a special kids area where they can watch a DVD or just play.
Dr. Joyner's patients have his mobile number. If you have a dental emergency you can reach him quickly.
We offer a relaxed, comfortable atmosphere and a friendly, experienced staff.
If you have a dental emergency we will do our best to see you quickly.
We've developed this informational website as an extension of our practice to serve as a convenient, educational resource for our patients. With just a few clicks, you can find helpful information about our services, credentials, and office policies. You can also easily access patient forms or request an appointment with Dr. Joyner.
Discover a new dental experience at St. Johns Dental! We look forward to caring for you and your family's dental needs! We know every person's dental needs are unique. That's why we offer a comprehensive selection of treatment options in a comfortable, convenient atmosphere. We are confident that we can provide excellent dental care for patients in the St Johns, St Augustine and Jacksonville areas.
We welcome new patients of every age. Whether you are new to St. Johns or seeking an improved dental experience, we invite you to call or visit our office for additional information.