Cosmetic and Family Dentist in St. Johns, FL
All of the professionals at St. Johns Dental maintain the highest levels of accreditation and pursue ongoing education to stay abreast of the latest trends in preventative and cosmetic dentistry.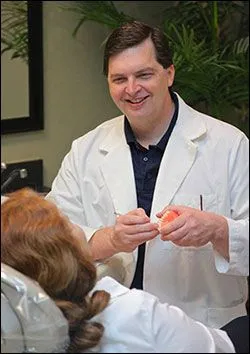 Dr. John Joyner
Dr. John Joyner established St. Johns Dental in 2003. His goal is to provide high quality dental care and a caring, gentle atmosphere for his patients.
Dr. Joyner grew up in Mississippi where his father was a United Methodist minister. While attending Millsaps College, Dr. Joyner met his wife Suzanne.. He graduated from the University of Mississippi School of Dentistry in 1991.

After visiting family in the Jacksonville area, the Joyners fell in love with Northeast Florida and decided to call this area "home" in 1997. Dr. Joyner served as a dentist at Mayport Naval Base for several years.

In 2003, St Johns Dental opened and Dr. Joyner has enjoyed becoming a part of the St. Johns community.
Dr. Joyner also served as an Instructor for the University of Florida College of Dentistry for several years, supervising dental students as they completed their clinical rotations.
Dr. Joyner is a member of the American Dental Association, the Florida Dental Association, and the Northeast Florida Dental Association. He attends continuing education courses each year to keep his skills and knowledge up-to-date in order to give his patients excellent care.
Dr. Joyner and his family currently attend Chets Creek Church..
Dr. Joyner with his son CJ